SUPERPRALINARIUM
ANDREY DUBOVIK
ONLINE COURSE ON PRALINE DESIGN
(ENGLISH, ESPAÑOL)

This course is aimed at professionals and experienced amateurs who would like to improve their skills in the design of chocolates.


€989,00

START ANYTIME
AVAILABLE 24/7
AUTHOR SUPPORT INCLUDED
---
COURSE PROGRAM

Equipment and Working Environment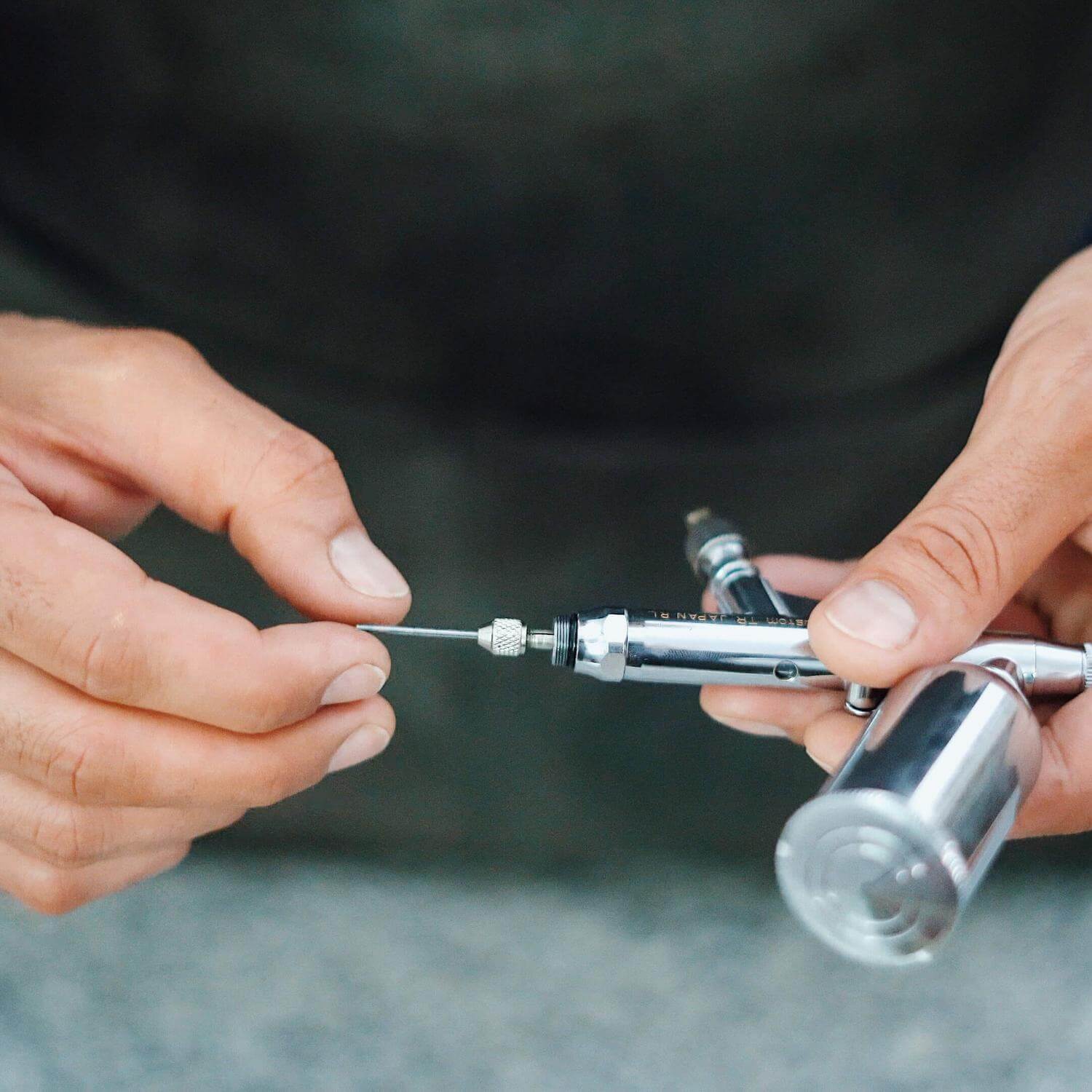 The first module of the course is all about equipment and basic aspects of working with an airbrush and an air compressor.


Need–to–Know Basics


We analyse all the basic elements and steps of creation of moulded chocolates and share how Andrey makes this or that design.


Fillings and Additional Recipes


We have made a detailed tutorial on basic fillings covering main types of fillings we usually use in chocolates:

Ganaches, crunchy layers, gels and caramel. You will find out about the main concepts, including the understanding of what an emulsion is and why it is important.

We will show you how to prepare basic fillings and how to use them in chocolate shells.

We've included some Andrey's recipes for your personal use.


One Where we Finally Start Working on Andrey's Designs

We will work with the techniques which are most likely the reason why you follow Andrey and why you are here. We begin with pretty easy designs including distinct borders of different colours in a cavity, asymmetric stripes with another colour on the background.


Creation of Abstract Patterns with a Stamp


The Module is devoted to a stamp technique and creation of abstract patterns on the surface of chocolates. You will also work on gradients and learn how to control the spray.


Spray Pattern Control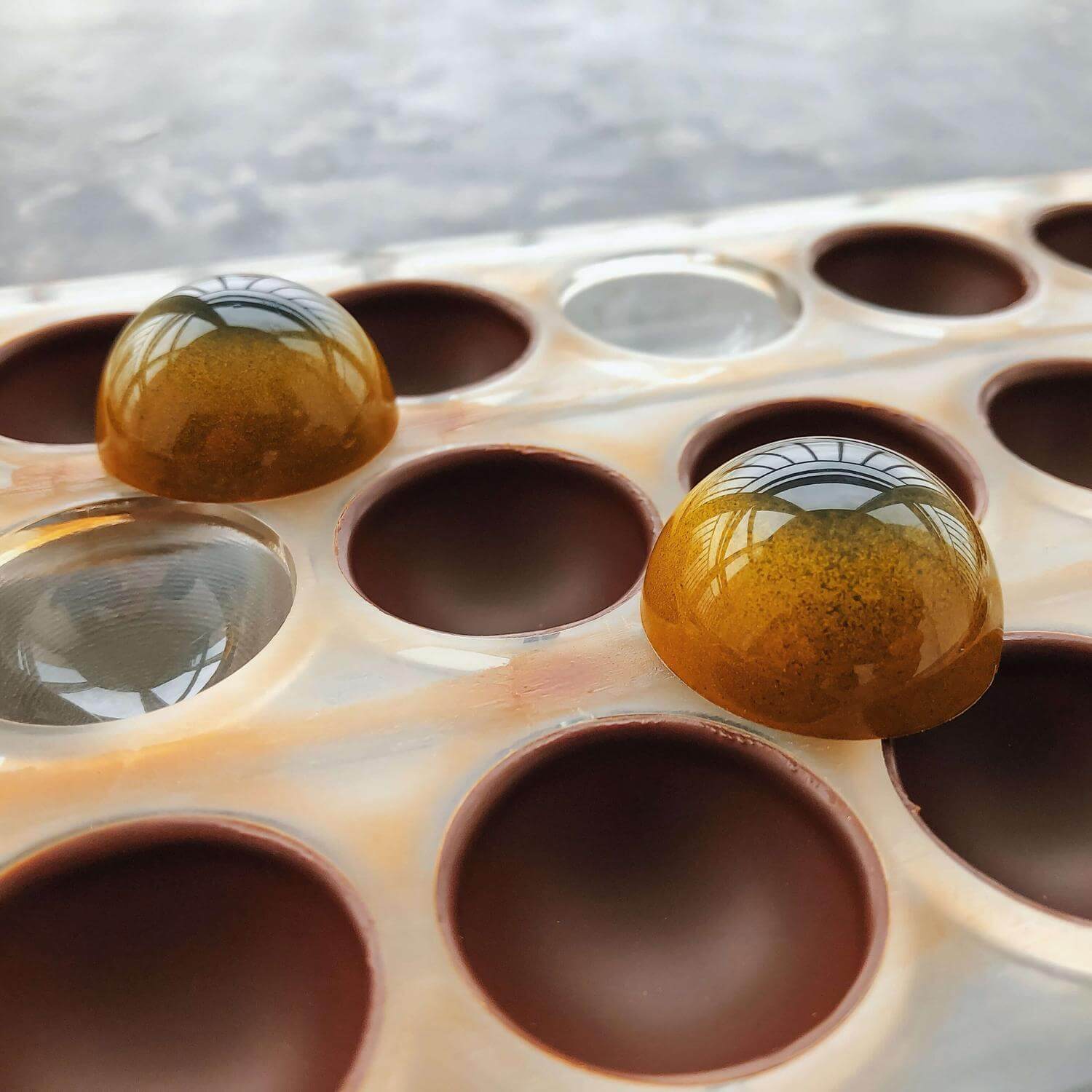 Module is devoted to three very similar designs made with the help of one technique. You will concentrate on controlling a spray pattern to colour mould cavities partly.


Making of Distinct Metallic Rings on Chocolates



You will learn how to make bright rings on chocolates.


Fan Brush and Creation of Borders


We will teach you to make bright circles on chocolates with a fan brush. One of the designs reminds us of outer space.


Airbrush as a Blowing Instrument


You will use an airbrush not only as a tool for spraying, but also as a tool for blowing clean air.

It is not a big secret that lots of Andrey's designs are made by blowing, i.e. when he makes cocoa butter move in the cavities simply controlling an air stream supplied.

You will learn the basics of this technique. You will create a collection of chocolates which shows the evolution of the technique used: from one coloured cavity to a complex design.


Hardcore Blowing Practices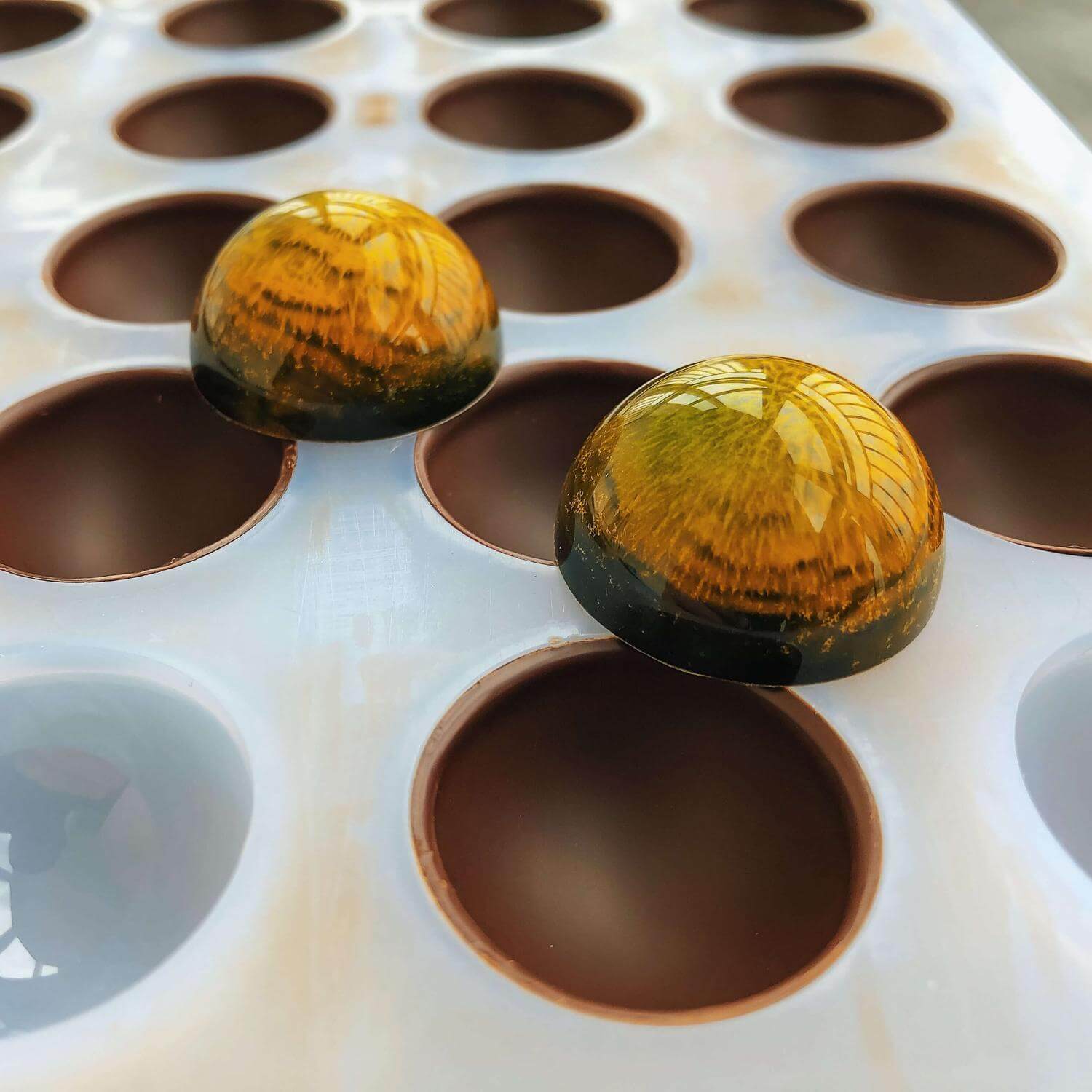 Module is about going ahead with the blowing technique. You will create more complex designs and work with a few colours at the same time.

You will also create a black and white version of the design which looks quite simple, but in order to recreate it you should really conquer the technique. You will make the same design once again but with no colourings at all.


Eye Design


You will work on the design we call the Eye. It's is one of our signature designs in the whole course.


Custom-Made Stencils and a Text on Chocolates


You will learn in details how to make bars and use stencils to write texts inside the cavities. It is also one of our signatures designs in the course. It requires the understanding and implementation of all the techniques showed in the course.


Andrey's Signature Mould CW1921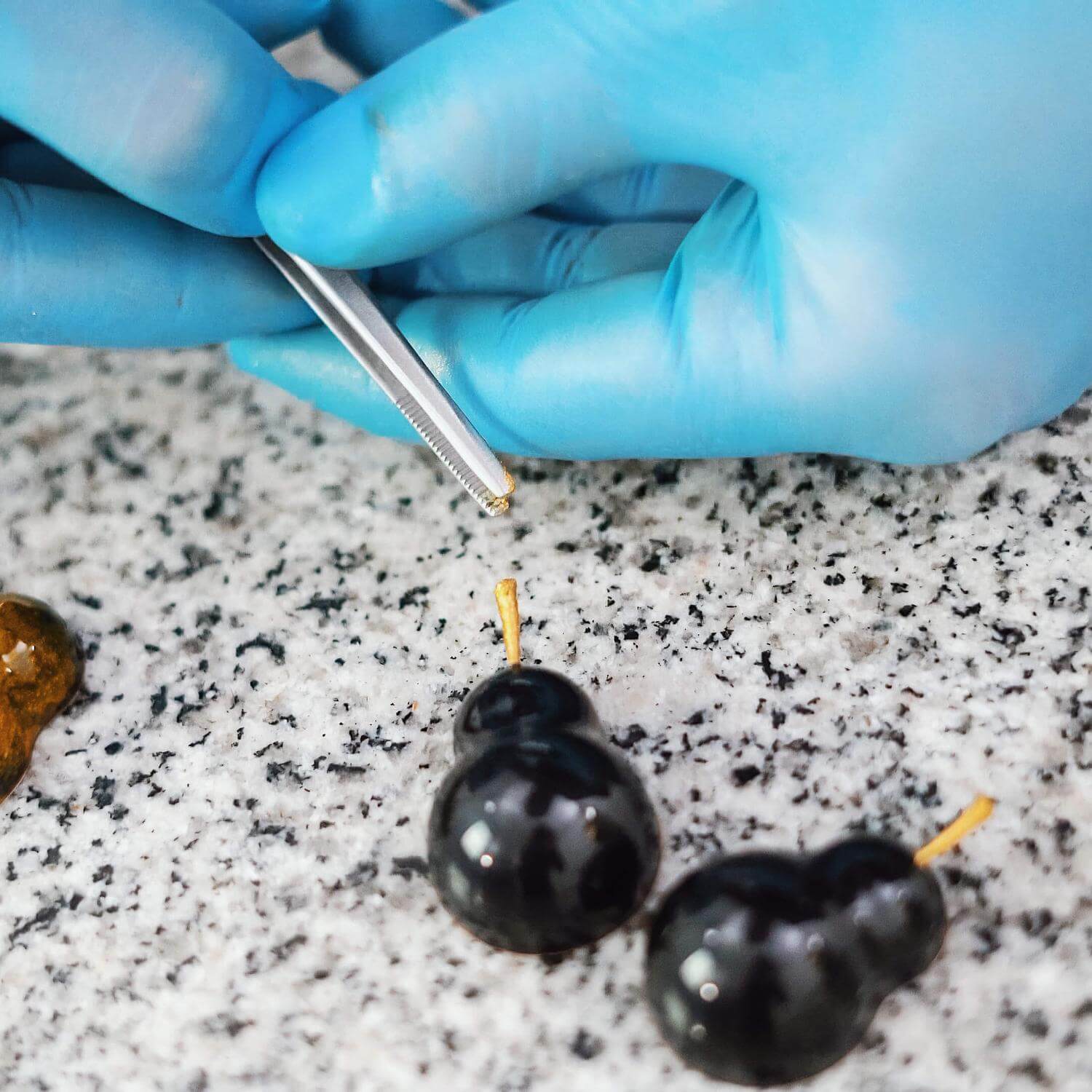 Module is devoted to the work with Andrey's signature mould CW1921. Unusual designs, including black and coloured in different ways pears, Russian dolls and other cool things.

After passing this module, you will most probably feel like a jewellery designer.


Velveting of the Finished Chocolates


You will learn how to create a velvet effect on chocolates. We will cover finished bonbons and two different types of bars with a velvet mixture.

This module has encapsulated all the techniques: stencils, textures, custom moulding.


Hand-dipped and Enrobed Chocolates


This module is optional and are for those who want to learn how to make hand-dipped and enrobed chocolates. You will see all the ins and outs of the process. We will show you the process in a, so to speak, homey environment without using special equipment and not for a large scale production.


Dragee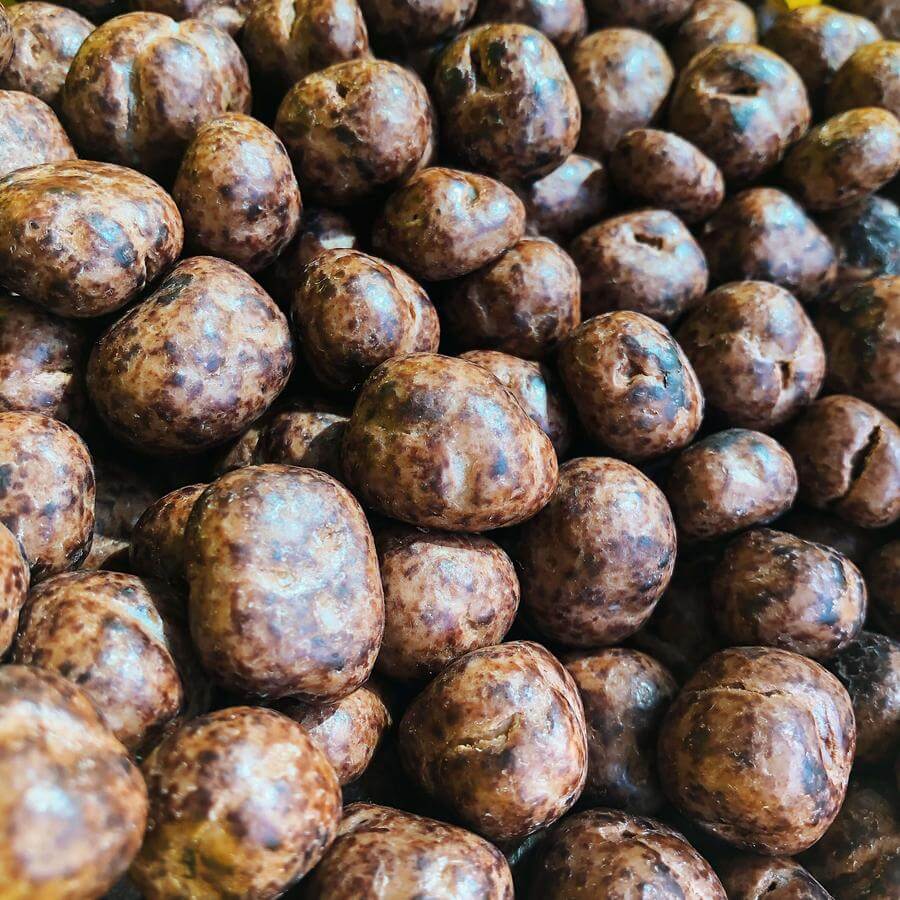 For those who would like to learn how to make dragee.

We won't use professional dragee machines, but and we will use an attachment for an ordinary kitchen mixer to make these chocolates from scratch and with no heavy expenses. We will also share some interesting concepts about the design of dragees.

That's it.
Now you know everything.

Keep in mind that you will have access to the course materials forever.

Those of you who have submitted all the assignments will get a certificate of the course completion.


---
€989,00

START ANYTIME
AVAILABLE 24/7
AUTHOR SUPPORT INCLUDED